What is the DermaSound Ultrasonic Facial?
---
DermaSound promotes healthy skin-cell turnover by purifying the skin. In a three-step facial, water is used to clear the skin of dead cells and remove harmful bacteria deep within.
Low-frequency ultrasonic waves are also utilized to penetrate antioxidants deep into the face tissue, treating skin problems at their core. With regular appointments and proper home care, this facial is a fruitful solution for dull, problematic skin.
What Are the Benefits?
---
DermaSound can be used to improve a variety of skin conditions, such as:
Acne/acne scarring
Damage from UV rays
Symptoms of rosacea, psoriasis, keratosis pilaris
Hyperpigmentation
Blemishes
Other benefits include:
A revitalized complexion
Hydrated skin
Promotion of collagen and elastin production, creating more youthful skin
Encouragement of new cell growth
Exfoliation of dead skin cells, oil, dirt
If you have fine lines and wrinkles, you can also expect to see tighter skin
Watch Facials In Action
See how facials are done, and discover why people are making the switch to GlyMed Plus treatments.
Whose Skin is it Best For?
---
The best benefit of DermaSound is that all skin types looking for healthy skin can see results! The process is FDA-approved to offer treatment that is safe, effective and accessible for all clients. Whether your skin is dry, oily, combination or sensitive, DermaSound can help you find a clearer complexion and counter the effects of aging skin.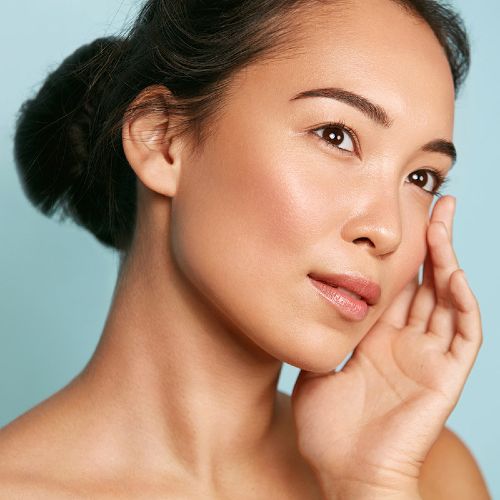 What to Expect at an Appointment
---
At your appointment, your esthetician will take you through the three-step DermaSound Process:
Stage 1 - The Ultrasonic Peel
The facial begins by using water and a process called 'cavitation' to eliminate dead skin cells and debris gently and safely. The gentle frequency of this low ultrasonic device spins water molecules across the skin in vibrations of 28,000 times per second, therefore loosening the upper portions of the dead and thickened skin cells. You receive a superior peel, without any skin trauma or inflammation.
Stage 2 - Antioxidant Infusion (Sonophoresis)
The sonophoresis process takes place when low-frequency ultrasound waves coax open microscopic pathways between cells. This allows nutrient-rich treatment compounds to gain access to the deepest layers of the dermis, where new cells are forming new skin, to make it healthier and more resilient than ever before. This technique delivers ingredients five to ten thousand times deeper than applying with your hands!
Stage 3 - Microcurrent Therapy
This is a simple process of supplying extremely low-level electrical current, such as that found naturally in the body, to the surface of the skin. That's where it reaches injured cells and restores them to normal balance and function. This process can put cells back to work doing what they do best; growing, reproducing, and protecting the body from age-causing environmental damage.
At Hazelday Spa, DermaSound Ultrasonic facials also come with a complimentary face mask at the completion of the treatment. The mask chosen will best suit your skin type, whether it is oily, dry, combination or sensitive. For a truly rejuvenating experience, the skin mask refreshes your bright, beautiful complexion after the restorative DermaSound Ultrasonic treatment!
Facial Prices

---
Facial Services
DermaSound UltraSonic Facial
$95
Treatment Add-Ons
Chemical Peel Spot Treatment
$7
Professional Care
---
Our professionals at Hazelday Spa are Master Estheticians and are certified in the DermaSound treatment process. We strive to provide you with clean, healthy skin and a stress-free experience. Our goal is to help you be comfortable in your skin and see true results through all of our professional skin treatments. We can help you improve your skin and find a skincare regimen that works best for you, we guarantee it!
Contact us today to book your appointment!
Book Online