Why Most Prefer Sugaring Hair Removal Over Waxing:
The sugar paste is made up of 100% pure and natural ingredients.
It is only heated to room temp so it cannot burn the skin.
The paste only adheres to dead skin cells therefore it cannot tear or hurt the skin and it's a great exfoliation!
Much better for sensitive skin. The risk of getting a rash are much lower (hardly ever) compared to waxing.
Sugaring can extract very short hairs, you only have to have 1/6 hair growth vs the 1/4 hair growth you need for waxing.
Since it is water soluble, it is easier to clean up and won't leave you feeling sticky.
It is more sanitary; by using the same ball of sugar, there is no double dipping and is a natural antibacterial!
Sugaring is much less painful than waxing (especially in the more sensitive brazilian and bikini areas).
Less time involved with sugaring.
Try sugaring once and you will never wax again!
Face
Brows
Removes hair from above, below and in-between the brows--includes shaping.
$10
Lip
Removes the hair from the upper lip area only (chin treatments cover the lower lip area).
$8
Chin
Removes the hair from the chin and under the jawline.
$10
Ear
Removal of hair on the outside (visible) area of your ear.
$8
Nose
Removal of hair inside the nostrils.
$8
Full Face
Removes the hair from all areas of face and under the jawline (including nose and brows).
$35
Body
Upper Back
Removal of hair from mid back to tops of the shoulders.
$40
Lower Back
Removal of hair on lower back, from mid back -- stopping at the pant line.
$35
Shoulders
Removal of hair on top of shoulders.
$30
Full Back
Removal of hair on entire back (including tops of the shoulders).
$60
Chest
Removal of hair from your neck line to your abdomen
$30
Stomach
Removal of hair from your abdomen to your pant line.
$35
How Long does Hair Need to be for Sugaring?
---
Sugaring wax Salt Lake City can extract very short hairs. Typically, hot waxing requires you to have longer hair. With sugaring wax, your hair needs to be about 1/6 of an inch long. What that equates to is about 2 weeks of growth after your last shave. The first time is always the hardest, but sugaring can stunt the hair growth and it can thin your hair out. The second sugaring hair treatment will be half the time and half the hair. We apply the sugar paste and pull with the hair follicle instead of against it. This greatly reduces irritation and ensures the whole hair is extracted to provide you with a longer time in between waxing appointments. If you keep up with your appointments, about every 4-5 weeks, your hair will remain thin, soft and easy to remove. Avoid spray tans or self-tanning until after your waxing appointment.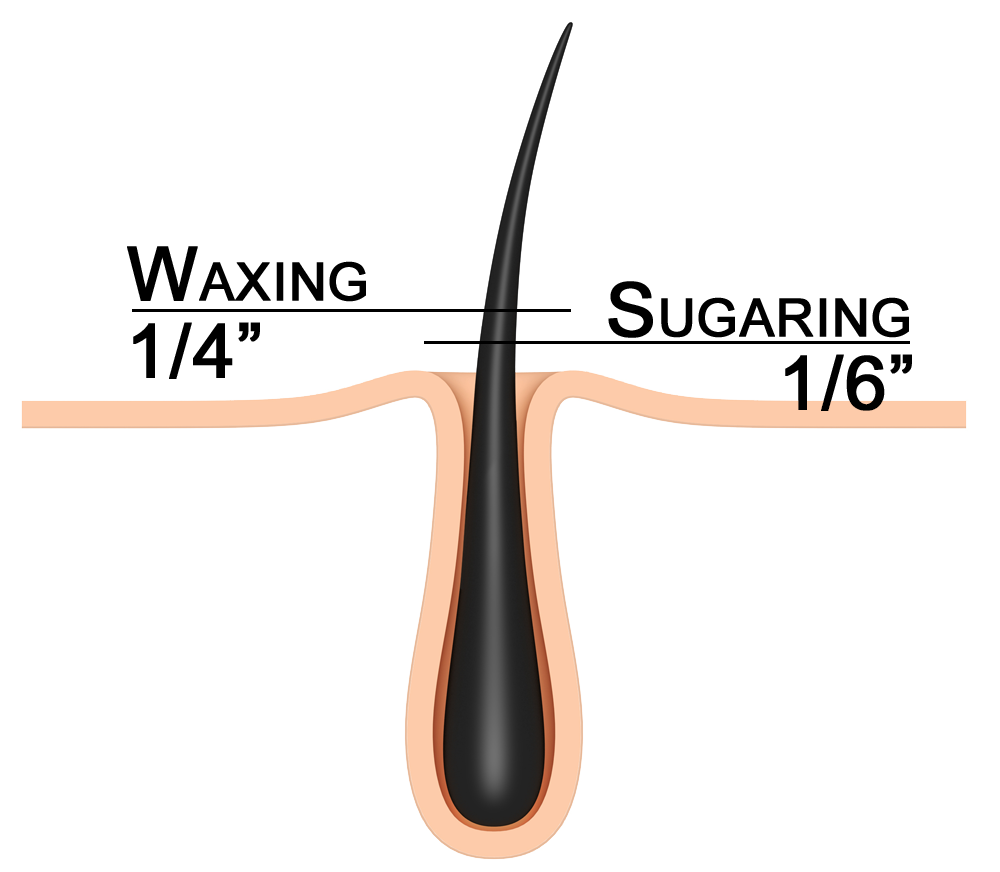 Watch Sugaring In Action
See how sugaring is done, and discover why people are making the switch from waxing to sugaring hair removal.
Have You Been Sugared Yet?
Advanced Body Sugaring Epilation offers numerous unique and diverse benefits. The most important advantage is very fundamental: the Alexandria technique and sugar paste formulation extracts the hair in its natural direction of growth while the hair is still in the early growth stage (Anagen stage). This eliminates hair breakage, unnecessary discomfort, irritation and ingrown hairs while exfoliating dry skin cells.
Book Online